Available Shelties!
Below are puppies/dogs that are now available. Our dogs are born and raised in our home. They are well on their way to being housebroken, crate trained and used to fenced in yards. Most have been kept until now hoping they would develop into a show dog. For one reason or another they have not, so we are looking for a good home to place them in. Most of these can be used for agility or obedience. All are sold on a spay/neuter contract. We will not ship any dogs to any new owner. We must meet prospective owners in person.
All of our dogs are fully tested (eyes, hips, thyroid and vWD) before being used in our breeding program.
We keep this page current, so if you are interested, send us an email and let us know what kind of home you have to offer our shelties.
For those of you that have not read our home page, we live in Watkins Glen, New York. Telephone number 607-358-7446.
We do not ship our dogs to their new owners. We want to have the opportunity to meet the new owners in person.
This page was last updated April 8, 2018.
Puppies
Sorry, we don't have any puppies available at this time.
Juveniles
We have one bi-blue male juvenile available at this time. He will be 2 years old June 14. We had hoped to be able to show him, but his tail is carried too high and the judges don't like it. Doesn't keep him from being a good pet though.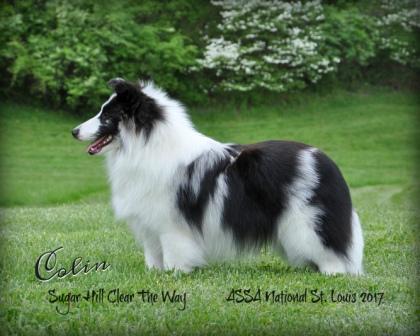 Adults
Sorry, we do not have any adults available at this time either.
If you want to learn more about any of our dogs, drop us an email or call. Home phone number is 607-358-7446, cell is 607-342-1991